I wanted to do something extra special for my girls when I asked them to be my Bridesmaids and Maid of Honor - I wanted to DIY something that shows how much I appreciate them and how I feel so honored to have them by my side on my wedding day! After trying a DIY puzzle *

which failed miserably

- evidently I bought the wrong type of paint*, decided on a homemade card with a personalized message on the back, and shopping online for a fun gift to send along...this is what I came up with! :)
I made the Card out of Zebra Cardstock, Teal Cardstock, and added Zebra ribbon and jewels as accents to make it pop a little! I found a really great poem online and printed it up and placed it on the front. On the back of the cards I wrote a very personal message to each of the girls letting them know how much they mean to me and how I would feel honored to have them by my side on my wedding day.
A card is never enough for me - I always have to go above and beyond the expectations so I started looking online for something fun to send along with it. I came across these really cute Corset Cookies made by Lori from
Lori's Place
! I knew I just

HAD TO HAVE THEM

- So I contacted Lori and within 1 day I had my order all set up and ready to go! I must note that Lori is great! She even got my cookies to me earlier than she told me! (Which in my book, deserve MAJOR kudos!) So if you are looking for a really fun, unique gift or cookies in general, definitly check out
Lori's Place on Etsy
!
Here's all the different corsets I got! Did I mention...I LOVE THESE COOKIES!? :)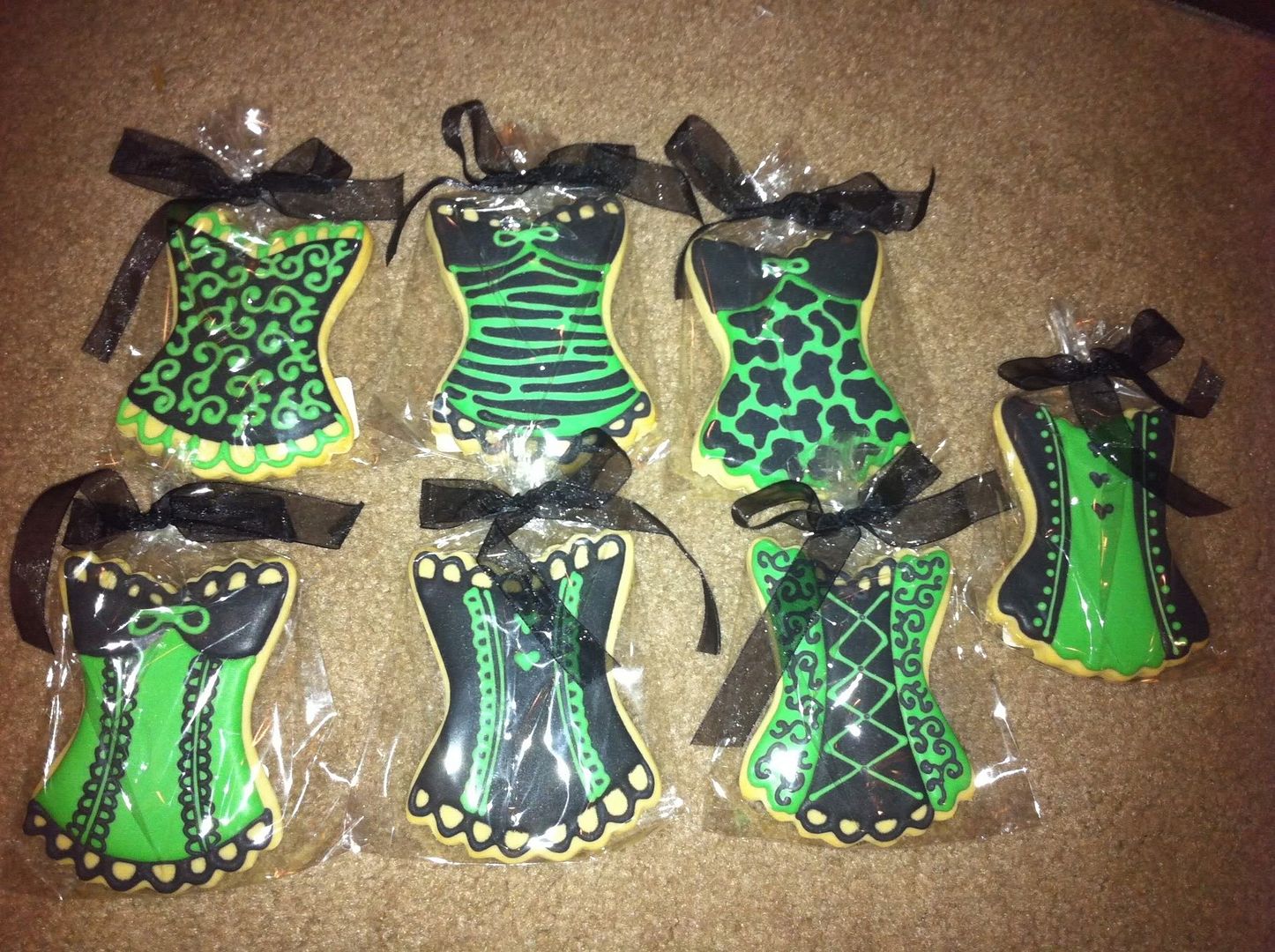 I've already give this to one of my bridesmaids - she cried when I gave it to her! She called her Mom (which is like a mom to me) and she cried, too! I think I make a good choice on who to stand next to me! I am going to deliver the other cookies/cards this weekend! I hope I get the same reaction out of every girl! They truly are my very best friends and I am just delighted that they have agreed to be in my wedding!